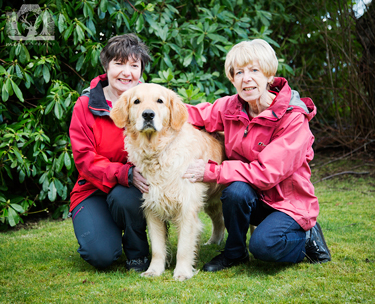 Meet Our Team At Let's Go Walkies.
After 20 years working in an Accountancy background until February 2008, I was diagnosed with a serious illness followed by a course of chemotherapy. During my recovery period, I realised that I needed a complete change in my working life.
Having grown up with family dogs I wondered if I could make my long term dream working with animals turn into a reality. I did my research for a number of months as my main idea was to do Doggy Day Care from our own home and being able to offer a Home Boarding service for the dogs that came to stay with us during the day. It wasn't long after that Let's Go Walkies was born.
Elaine, who also happens to be my mum, had just retired from her part-time job as a Leisure Attendant. Mum has been with us since our very first day and has been very much hands on in our service. From meeting and greeting our clients and coming out the morning group walks each day she has been kept very active indeed.
Brodie, our Golden Retriever, had also been with us since our very first day too. Trained by me during my recovery period, he loved coming out our countryside walks each day and sharing his home when our Day Care boarders come for their holidays. Brodie brought us much fun, laughter and happiness. We sadly lost Brodie back in 2017.
Hector, our Long Haired Chihuahua, originally came to us for Doggy Day Care towards the end of 2014. Due to sudden changes in Hector's family life, his owners felt it was in his best interests to rehome him. Hector officially became a member of our household at the end of January 2015. He is very sociable and loves being in the company of the other dogs who come to us for Day Care and Home Boarding.
We now have Fergus, our Golden Retriever who joined the family household back in 2018 & Jasper, our Miniature Long Haired Chihuahua in 2021.